We have so much fun with our guests from all around the world that we have decided to record on a blog our last five experiences to inform prospective guests about how informative and interesting eco fishing can be.
He may be small but the boy can fish!
Travelling from Sydney to Brisbane we really enjoyed the company of a family from Holland that stayed with us to enjoy the natural treasures of the Camden Haven. They swam, bush walked, explored the waterways by boat, and at the end of the day they enjoyed nothing more than wetting a line directly in front of the Treehouses. As the incoming tide started to move on came the whiting. Apart from getting up to cast and untangle the odd line or two, the parents and I enjoyed swapping Dutch and local Port Macquarie beers, Black Duck of course, and a plate of oysters from our pristine river.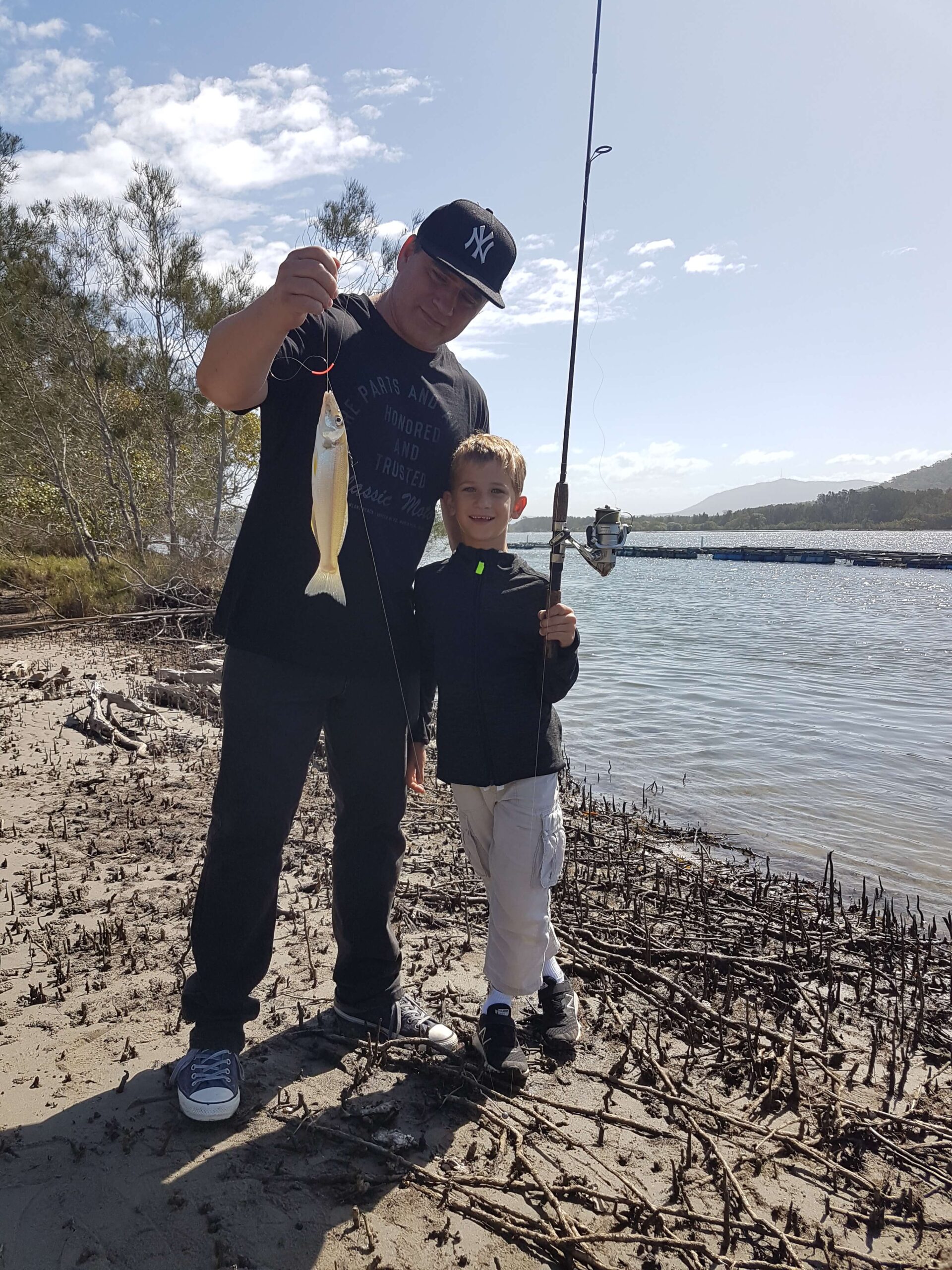 Teaching the children
We had a wonderful family book out both Treehouses for a long weekend and with two boys the name of the game was adventure, swimming, boating, fishing and getting deep into the mangroves searching for crabs. There is nothing more joyful than watching an enthusiastic young fisherman land his first fish, all on his own. I could write more but the video says it all: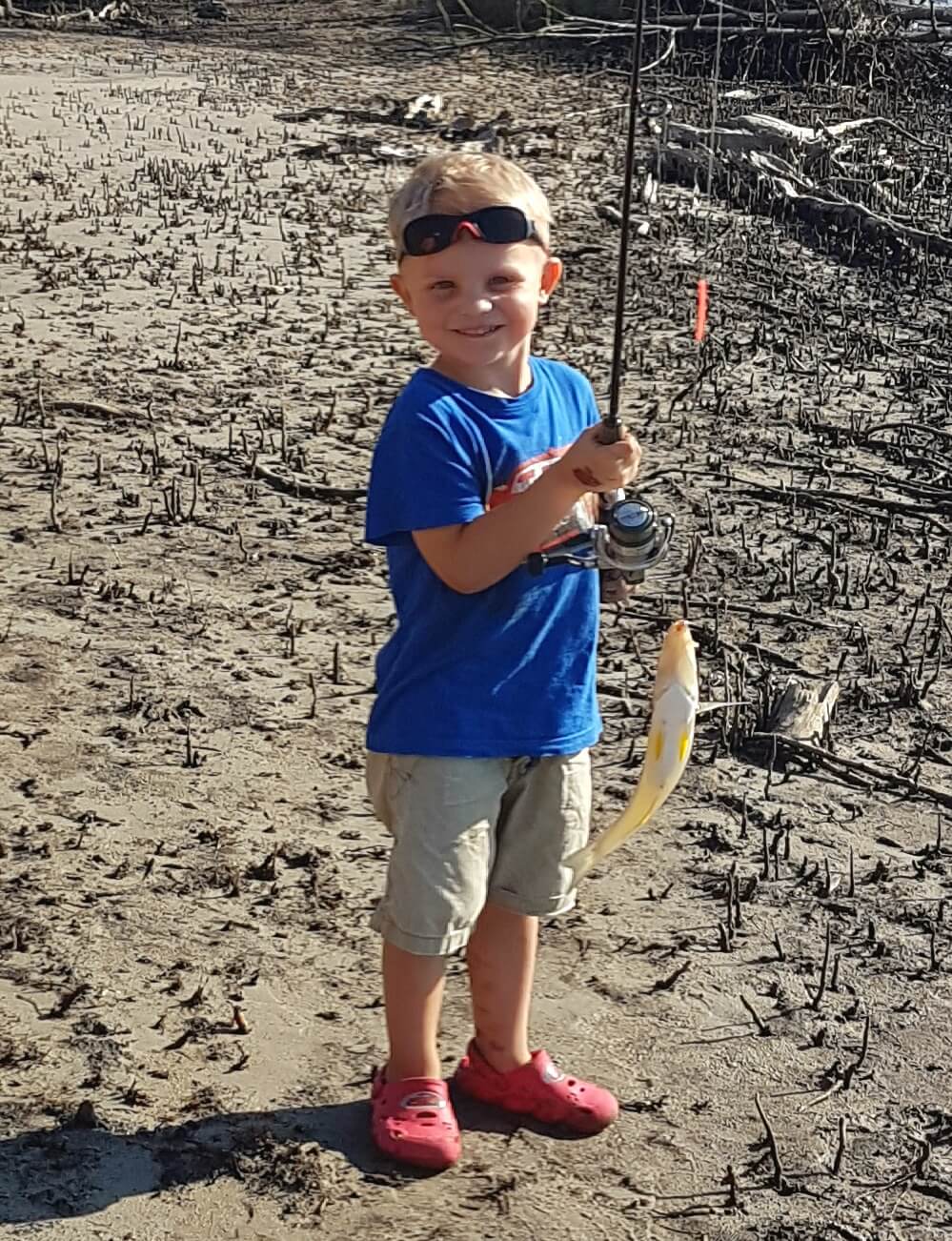 Addicted Dave
Dave, originally from England and a proud British Lions rugby fan (everyone has their faults) loves fishing. As a skilful and experienced angler Dave and I headed off in the kayak for a great day of artificial lure fishing in the lakes where we took in some great scenery and landed a couple of great fish. It was great fun seeing Dave turned inside out trying to fight the big ones from the back of the kayak.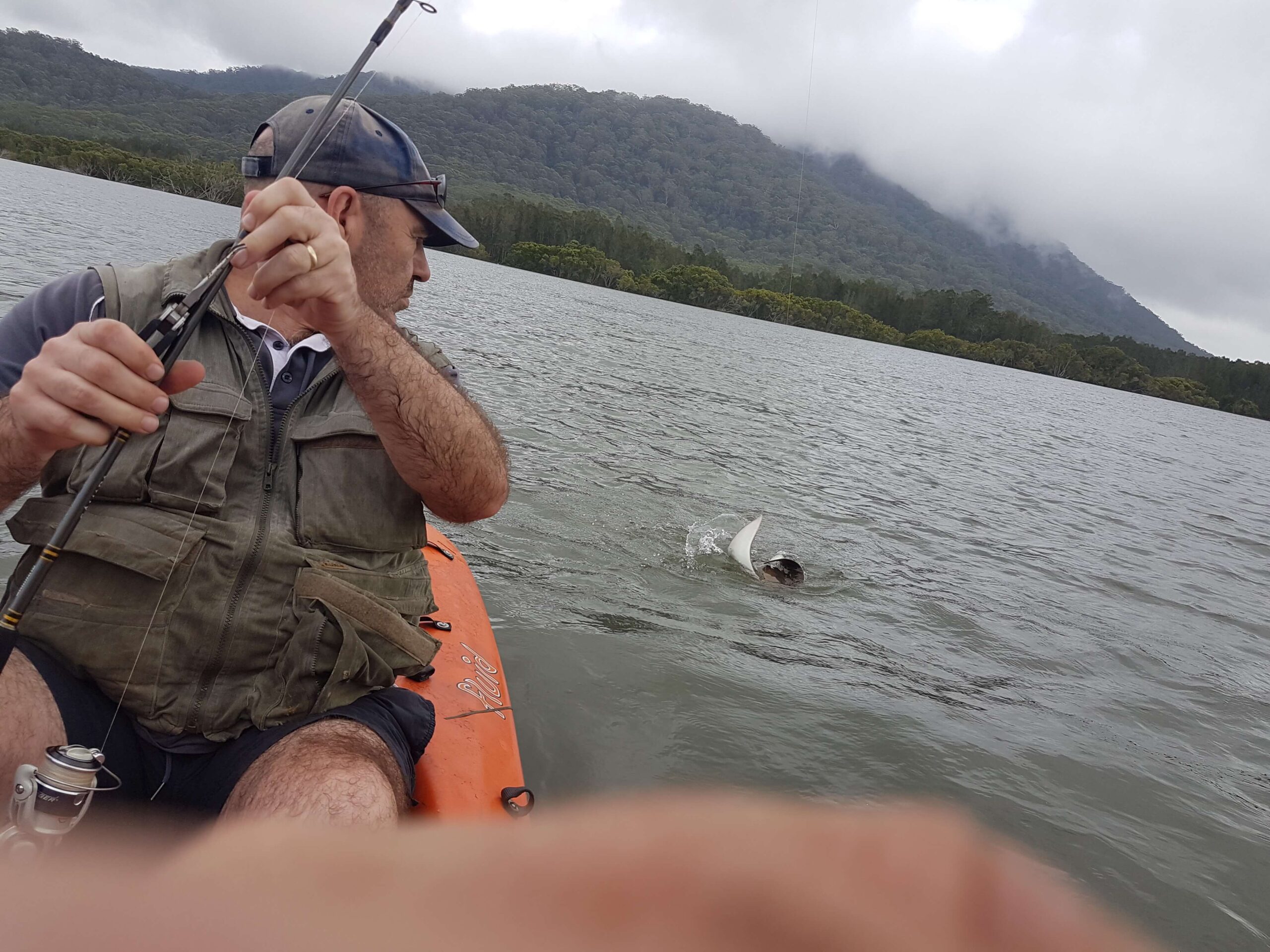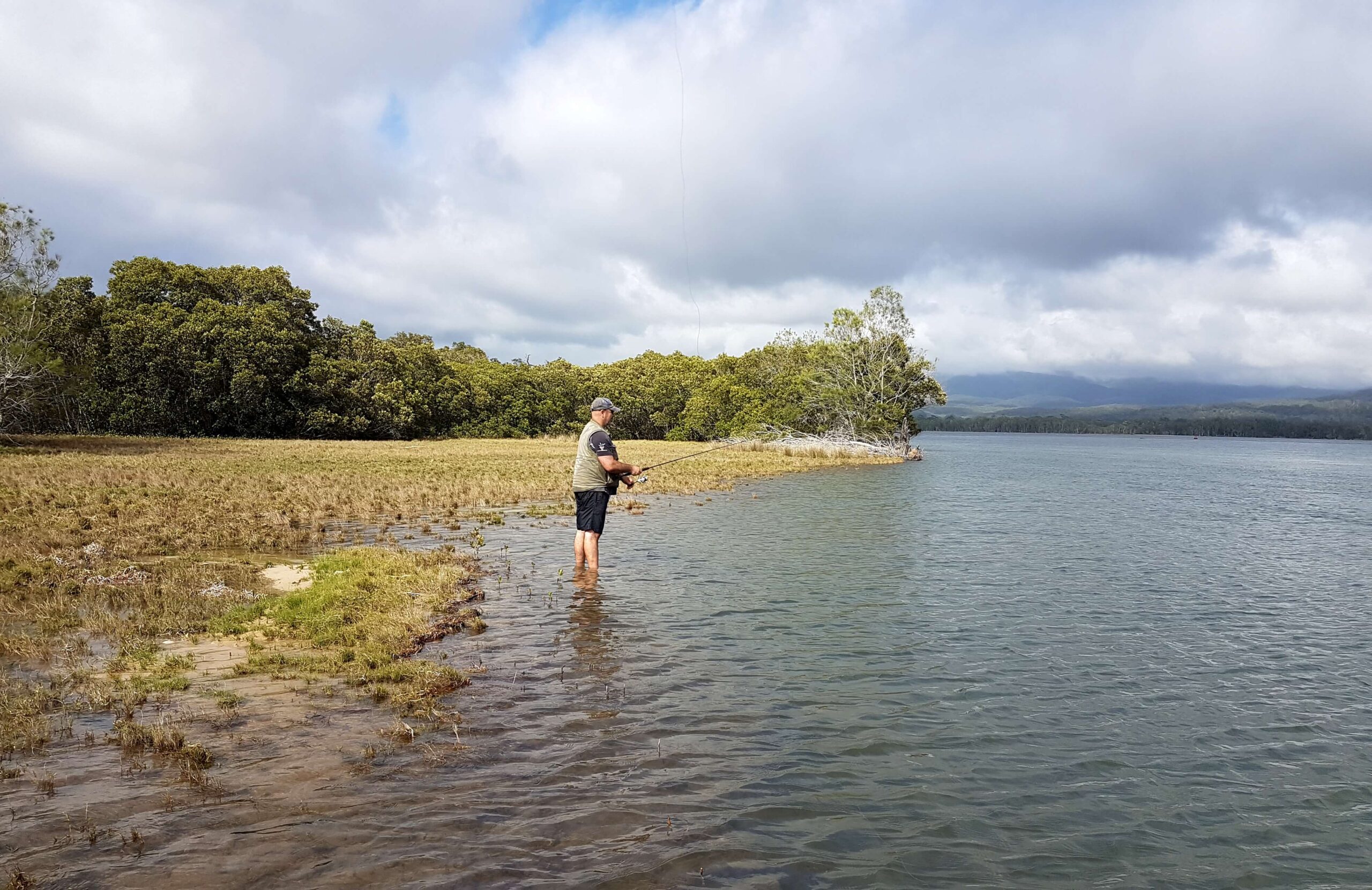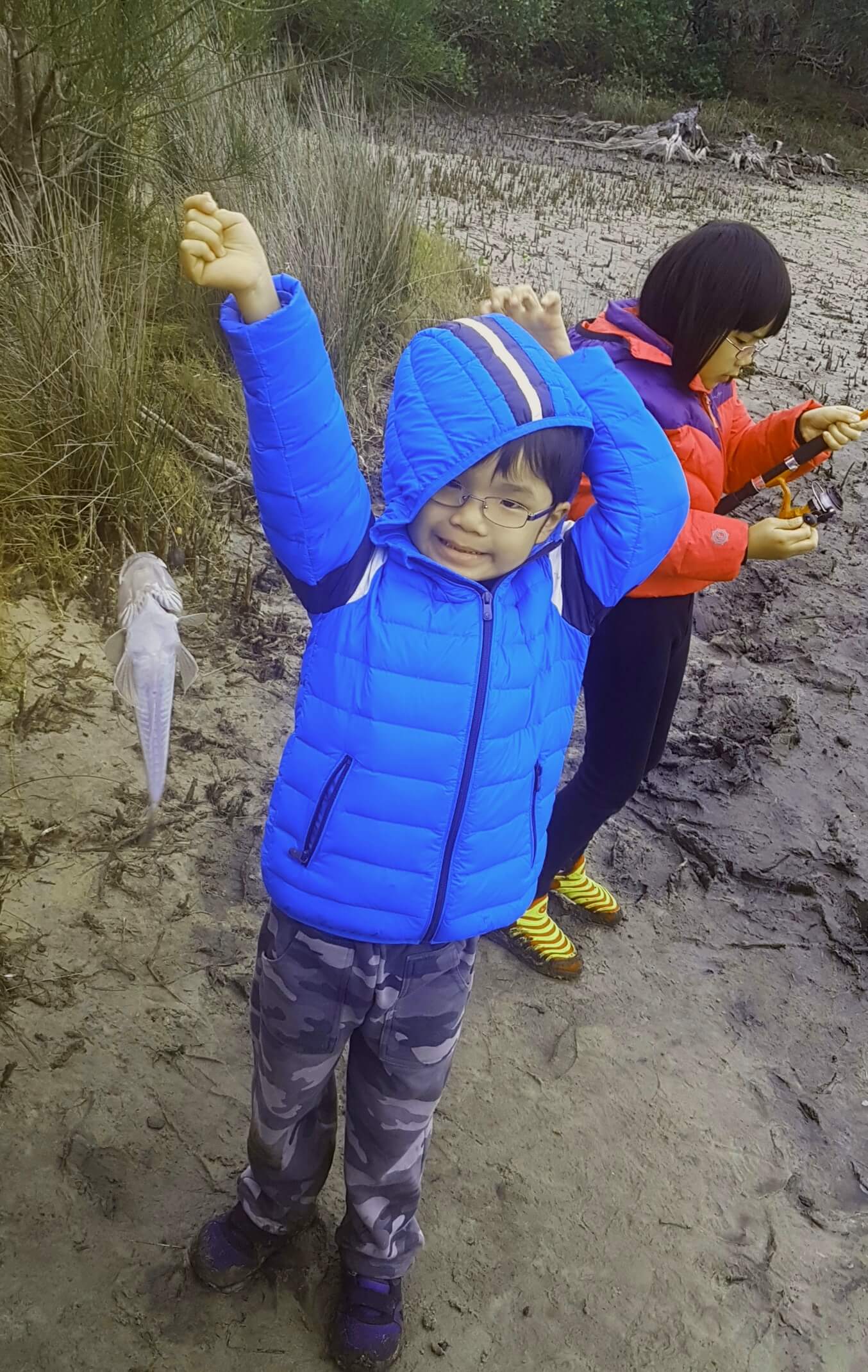 Imagine This
Two beautiful kids and their family from Hong Kong had never fished before so off we went to the river where our fishing session started with paying our respects to the original owners of the land, the Biripi people, and the telling of the Three Brothers dreamtime legend as from where we fished you can line up these magnificent mountains. Using locally caught beachworms and slithers of fresh squid it was not long before we had landed several large whiting, a large ray, and some dusky flatheads and all fish were photographed, air kissed and gently released. When we finished fishing we lit the campfire in front of the Treehouses and toasted marshmallows, another new experience for these champion kids from Hong Kong.
Worst Weather – Best Fish
Most people duck for cover during the infamous east coast low weather events – think rain and bitter southerly winds. But, if you are brave enough these horrible conditions can provide just the cover for the big fish on the beach to get on the bite. During winter we are fortunate to be visited by arguably one of Australia's great sporting fish – the Australian Salmon, hard fighting, leaping tough as teak competitor on light lines. There are times when putting up with terrible conditions is worth the pain.