In modern times, new tourism operators that seek to push the boundaries to achieve a different or unique product offering cannot afford to alienate market segments through a lack of commitment, resources, or creativity. In saying this, no matter how much is achieved, the creations and solutions are likely to be imperfect, questions of access versus natural experience will be asked, and ongoing improvement opportunities will surface.
This blog outlines the journey of physical accessibility at
Diamond Waters Treehouse Retreat. When first considering the Master Plan for a tourism development, owners Peter and Kerry were faced with numerous contradictions and challenges.
To achieve a successful luxury eco-tourism
accommodation business the following circumstances needed to be considered:
 Accommodation had to be built high above flood levels, at least 3.1m above ground.
The land from car park access to the potential site for accommodation dropped 4.5 metres.
There was 70 metres of protected wetlands between dry land and river access.
Soil type was sand, soft and unsuitable for wheelchair or even walking stick access.
Large sections of the property were inaccessible due to weed growth from previous rural
use.
Fire risk had to be carefully considered.
As a small development, ongoing maintenance strategies needed to be manageable.
Financial resources whilst not 'stingy' limited to the building per square meter average.
Peter and Kerry set out with a Vision Statement to build the best eco-accommodation tourism
business in Australia. To achieve this Vision their goals (among others) were:
Full accessibility to and within the high in the air Treehouses.
Accessibility to the forest environment via hard surface pathways.
A long-term goal of achieving wheelchair access from the car park to the river's edge despite
slopes, soft surfaces and 70 metres of wetlands.
"If you do nothing else when considering a tourism development, construct a well considered vision and set of achievable goals."
Whilst it would be fair to say that Peter (ex-hospital manager) and Kerry's (ex-property development
manager) goals were set with a large degree of empathy for the aged and those with disability issues, they were also cognisant of market opportunities. The love of nature and eco-experiences was never the exclusive domain of the young and fit, and the bird watching fraternity is a classic example. As it has turned out over 60% of guests fall into the over 55 age group with many guests having some level of mobility impairment. It is estimated that this group has contributed over 50% of our revenue over a 13-year period. If accessibility issues had not been considered the revenue base of the Treehouses would be much lower.
"We have lost count of the number of potential guests have enquired as to how they might with some level of physical impairment access a Treehouse. After a short discussion they inevitably book….and in some cases we have done something extra to accommodate their requirements."
The same strategy was applied to the recent building of The Fernery Events Pavilion. With its level access points, BCA compliant amenities, and hard surface garden pathways to and from the river our weddings, strategic business workshops and health and wellbeing events are inclusive. One of our event organisers runs chair yoga for the elderly, confident that her groups can safely enjoy the
surrounds and access high quality amenities.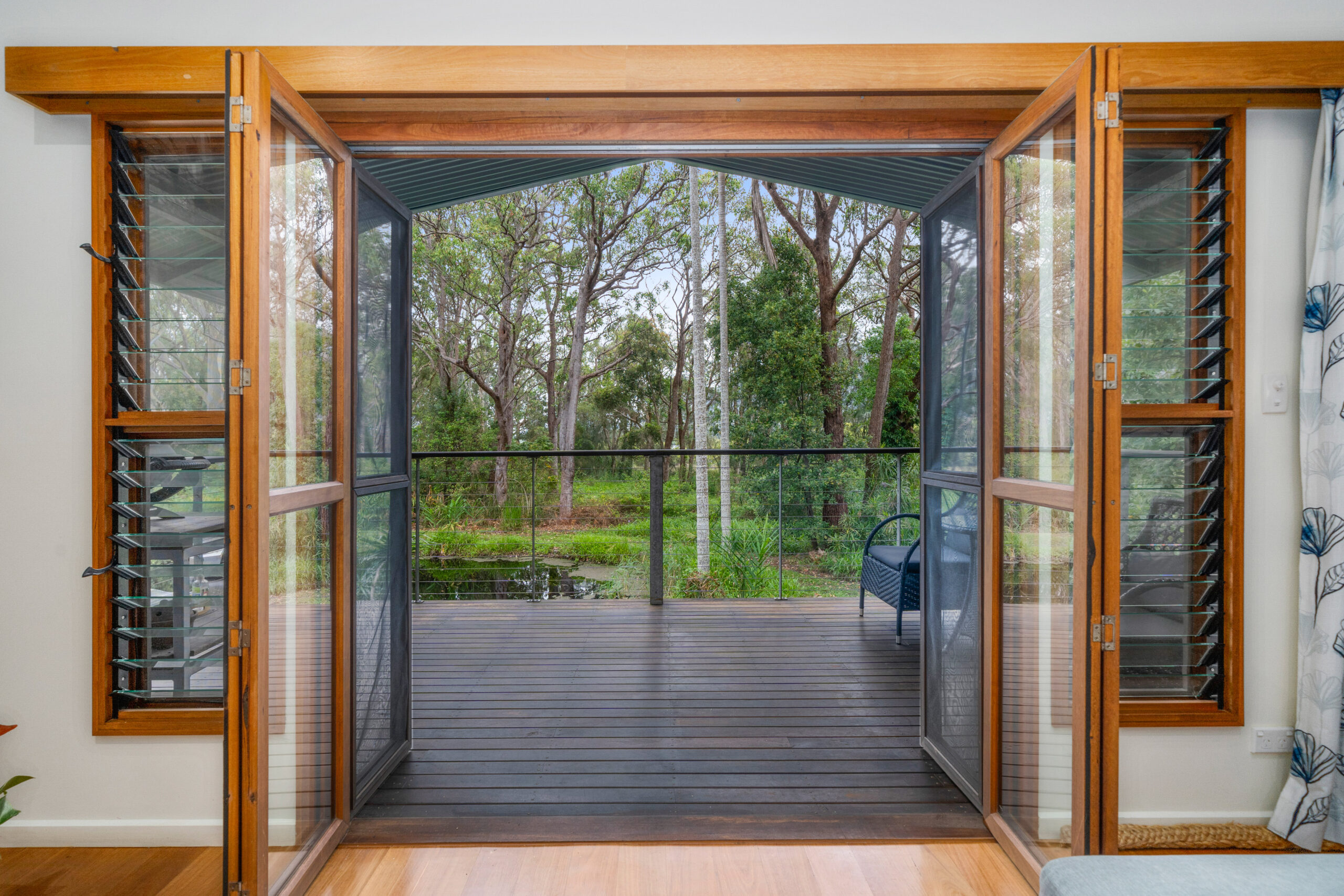 Our progress and commitment over the last 13 years is summarised below:
Accessibility has featured in every development decision we have taken.
Small level and walkable pathways, and bird watching accessibility points, were delivered in
2011-14.
Hard surface pathways to the edge of the wetlands were completed in 2017.
The Fernery Events Pavilion was built to full accessibility standards in 2019-20.
The final accessible link to the river, The Wetland Walkway and Bird Hide was completed in
2022-23.
Wheelchair accessible guest vegetable gardens were completed in 2023.
Whilst there are elements of best practice within the Diamond Waters Treehouse Retreat site, there are also compromises and further opportunities for improvement. Our steel walkways which facilitate level access to the Treehouses and the River can be a bit bumpy for some wheelchairs, but we had to use steel for both fire and environmental DA condition purposes. Our Treehouse
bathrooms albeit large, open, and successfully used by many, are not fully BCA compliant. But through discussion with prospective guests we have been able to meet requirements through the provision of additional equipment.
We see further opportunities for improvement to be sensible Treehouse bathroom modification, additional accessible gardens and more accessible environmental pathways as our land regeneration goals are realised.
In the meantime, our customer reviews rank us a perfect 5 out of 5 and many of these reviews have
been submitted by people with mobility issues.